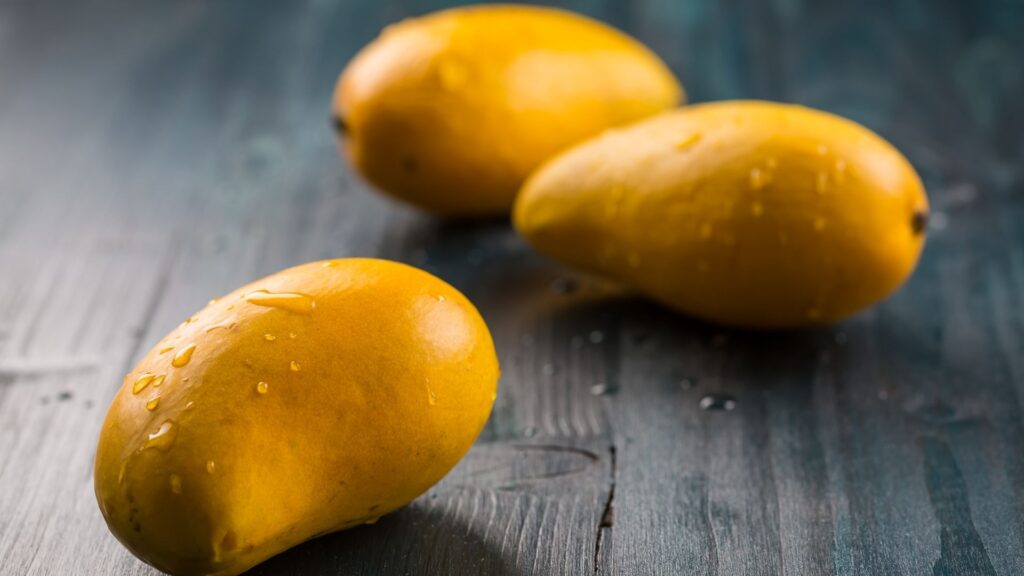 Ataulfo Mangos
These golden beauties are not to be missed. While they can play well in several dishes, pastry chefs and bartenders treasure the unique and sweet Agri Ataulfo mangos. Known for its canary-yellow color, first and foremost, the Ataulfo is certainly an eye-catcher. The soft, smooth rind gives way to a velvety, sweet fruit. We are huge fans of how narrow and small the pit is because that means more mango to go around! This specialty item is a treat when it comes through Agri, and we are ready to share it with you when you order with us today. 
Ataulfo Mangos on the Line
We have seen pastry chefs and bartenders alike have a field day with this bright yellow fruit. Since it is sweeter and smoother than its green and blushing counterpart, it is perfect for desserts, cocktails, syrups, jellies, and jams, the list goes on! There is a certain musky note that is missing here, so more flavors find flexibility with the Ataulfo's bashful, but tasty tendencies. The color alone sparks the imagination, but sometimes simply served with something sweet can be enough, as it amplifies and plays well with neighboring dish components or cocktail ingredients.
Agri can supply chefs with Ataulfos any time of year, but we recommend circulating them into prep spring through summer. That is when these flaxen fruits marvelously come into their own, perfect for ataulfo recipes. They are a perfect, refreshing menu addition through sunny days and warmer months. If you have worked with Ataulfos before, we have you covered. If you have yet to play with this wonderful ingredient, now is the time!
Agri Ataulfo mangos are available now at AgriExotic! We always keep a stock of what's available for chefs at our facilities and are available day or night to answer questions, fulfill orders, schedule special orders for specialty ingredients, fresh-cut produce service, or complete second runs. Contact us today to see what has joined our inventory!