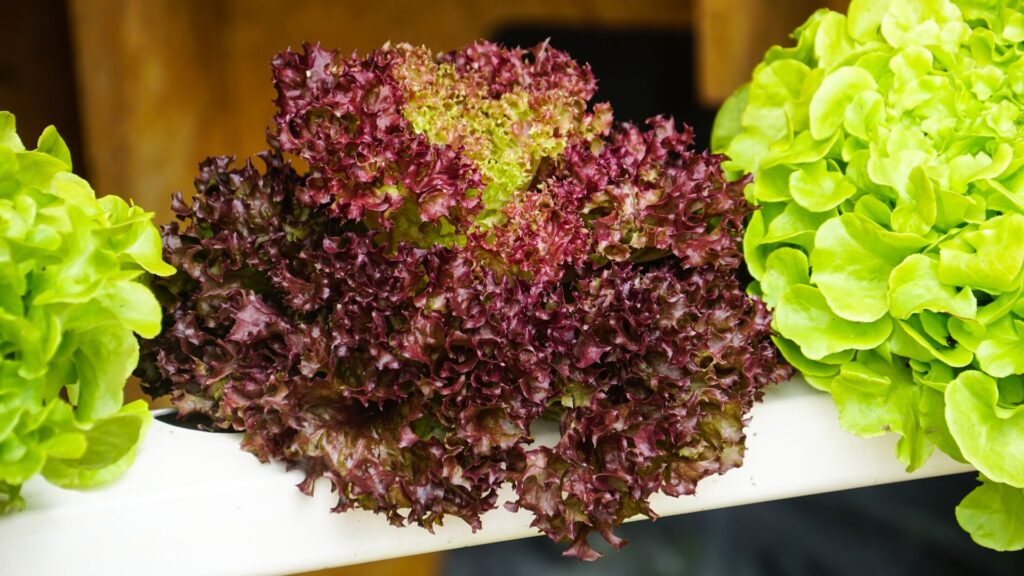 Baby Red Oak
As we move further into summer, we notice that chefs like finding ways to revamp their menus to match the season. Heavier mains and sides grow lighter and brighter, and satisfaction is traded for refreshment. After all, it sure is hot out there! While heavy comfort meals may work well in fall and winter, walking around with a belly full of roast and root vegetables can prove quite the task. So we thought we'd take the opportunity to happily brag on some of the leafier solutions we offer to chefs looking to lighten up their menu for the heat. Our favorite? The colorful and expressive baby red oak lettuce, aka baby gem lettuce. 
Baby Red Oak Gem Lettuce on the Line
The vibrant burgundy-stained leaves of little gem lettuce are a delight when it arrives at the table. Its shape, texture, and color turn a salad option into a tasty necessity for guests looking to cool off. Its nutty, earthy, sweet notes lend themselves beautifully to surrounding ingredients. Riddled with antioxidants and anti-inflammatory nutrients, it's perfect for chefs looking for healthier options. 
The frilly and loose-leaf gem lettuce is not just ideal for salads. It can stand up to heat like a champ! They can be braised and paired with other seasonal fares and even incorporated into summer soups. Its mellow, earthy flavor means it will pair harmoniously with garlic, shallot, pine nuts, and almonds. It can hold its own against bold flavors like Roquefort, gorgonzola, and red grapes while catering to gentler flavors like apples, pears, and chervil. 
Agri baby red oak lettuce and other leafy options are available now at AgriExotic! We keep a stock of what's available for chefs at our facilities. We are available to answer questions, fulfill orders, and provide fresh-cut produce services. Contact us today to see what has joined our inventory!