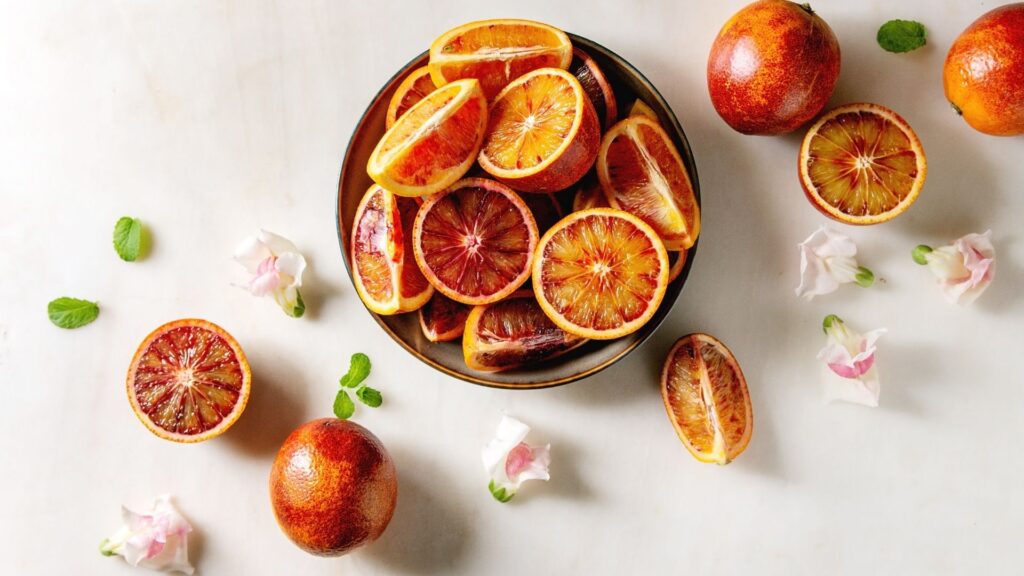 Blood Oranges
The blood orange has been an "it" ingredient for a long time. Upon slicing into these blushed oranges, showing deep maroon pulp and almost Fuschia blood orange juice, it is easy to see why it is so coveted by chefs and bartenders alike. Popular oranges, blood oranges walk the kitchen runway, unapologetically boasting tart and sweet flavors, bold blends of orange and red blush, and full-bodied spring flavor from rind to fruit. Peaking January through April, now is the time to bring the powerhouse of deliciousness into your spring pantry.
Blood Oranges and Blood Orange Juice on the Line
These moody fruits are springtime in the palm of your hand. Did you know Agri carries multiple blood orange varieties? When you check in with Agri, feel free to inquire about one–or all!–of these unique blood orange sisters.
The youngest of the three species, the Moro, is always ready to put on a show. She is the most colorful of the three, and eager to impress dishes, chefs, and guests. There is more of a bitter note here, but the Moro delivers an intense aroma and flavor that leaves a lasting impact on dishes, drinks, and tastebuds. Spain's Sanguinello is a red-skinned garnet that's great for garnishing. Fewer seeds make them ideal for the line, reducing prep time substantially, so chefs can focus on building salads, entrees, or unforgettable gelato desserts. The classic Tarocco remains humbly ready to please. Her skin may not be as vibrant as the others, but she is the sweetest of the three. She plays well with fennel and elevates sorbet with every spoonful.
Spring months will soon transition to warm and balmy summers. Celebrate spring and all she has to offer by incorporating these ruby red gems into your menu. The pendulum swings between sweet and tart, making each dish they encounter playful, bright, and all with a touch of sweetness. To place your order, or to browse and shop our extensive collection of delicious produce, go to https://agriexotic.com/order/.