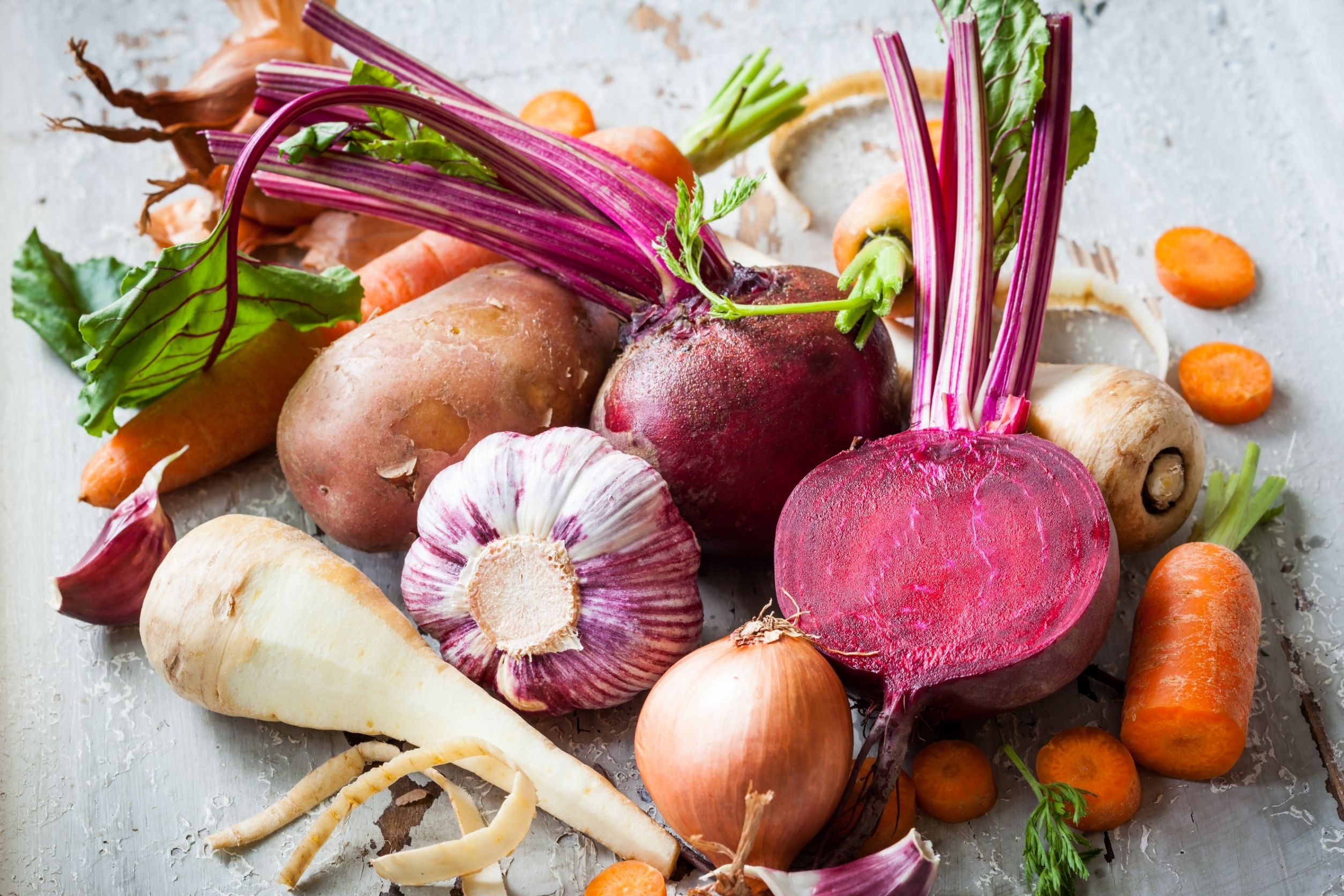 Making a Case for Root Vegetables 
Working with root vegetables can be a joy when done right, and rewarding when cooked well. It doesn't hurt when your supplier can have them fresh cut for your service or events! Root vegetables are hardy to the colder months, easy to preserve, and pack as many flavors as health benefits. These veggies lean towards the sweeter side but still cover an impressive range across the palette. In these colder months, it's always good to have a few different types in stock at all times, and luckily: we can help!
Why Root Vegetables? 
Why not? They are the most common vegetables you could stock in your kitchen. After all, what's a pantry without onions and garlic? And speaking of onions, you can't have a mire poix without a few of those, carrots, and celery. Root vegetables bring memory with them. They are rooted in our childhood meals, holiday dinners, and other family get-togethers. Too often the root vegetables are seen as scaffolding and basics behind heartier meals, and can go over-looked and under-appreciated.
Interchangeable and Diverse
Seriously, we cannot praise on the humble root vegetables enough. If you are looking to jazz up or develop your seasonal menu, let root vegetables be your cheat sheet. Think about it. The vanilla note in parsnips, the earthy red beet, crispy watermelon radishes, and the flirty licorice in fennel — all of these deserve that second glance. Despite that diversity, they are also incredibly interchangeable. You may not replace an onion with a turnip, but we've seen success in switching out Yukon golds for the modest rutabaga.  
As chefs and restaurant owners, you have the knowledge and experience to explore these roots and what they're capable of. You also have a supplier down the street that can help you mix and match these unassuming ingredients. The deference they pay to dishes is only further flattered by their own unique tastes. They're always ready to play in the kitchen.
Quite the Pickle
The art of pickling is as vast as it is delicious, and the only thing that loves pickled-anything more than the person writing this right now is a root vegetable. Their hearty nature doesn't just stand up to winter, it stands up to acid, sugar, and time. Want to get ahead of the crowd? Start experimenting with pickled root vegetables. Carrots in brine, garlic and tumeric in honey, quick-pickling red onion or jicama, these are not all new concepts, but few chefs are implementing them. We can't totally blame them, building kimchi, kraut, and pickling cucumbers for house-pickles is always attractive. We think getting ahead of everyone else is more attractive, though. This lets you shine a new light on your favorites, while experimenting with new and fun concoctions for your menu.
Deep-Fried Root Vegetables = Your New App
You probably already punch and fry potatoes, but why do they get to have all the fun? Root vegetables are an affordable option when considering the next appetizer to add to your expanding menu. Parsnip or yuca chips, deep-fried beet medallions, or tempura battered turnips–these can all stand up to hot oil and sauce dunking. Plus, everyone does house fries, and you're not just anyone!
Serve Root Vegetables Raw
This is where AgriExotic really shines. Our locally sourced produce is fresh and ready for your service. Whether you elect to let us fresh-cut your order or deliver whole, you will have nothing but the freshest options. While root vegetables can carry subtle flavors, their crunch is undeniable and so satisfying. Raw root vegetables can also act as palette cleansers, gearing your guest's palette up for the next course.
We hope we have made a case for integrating more root vegetables into your menu. And if we have, we can also get you a case of them! Whatever you're gearing up for or ready to experiment with, we can get you everything you need. Order some now from AgriExotic for great pickup and delivery options and let your journey take root!