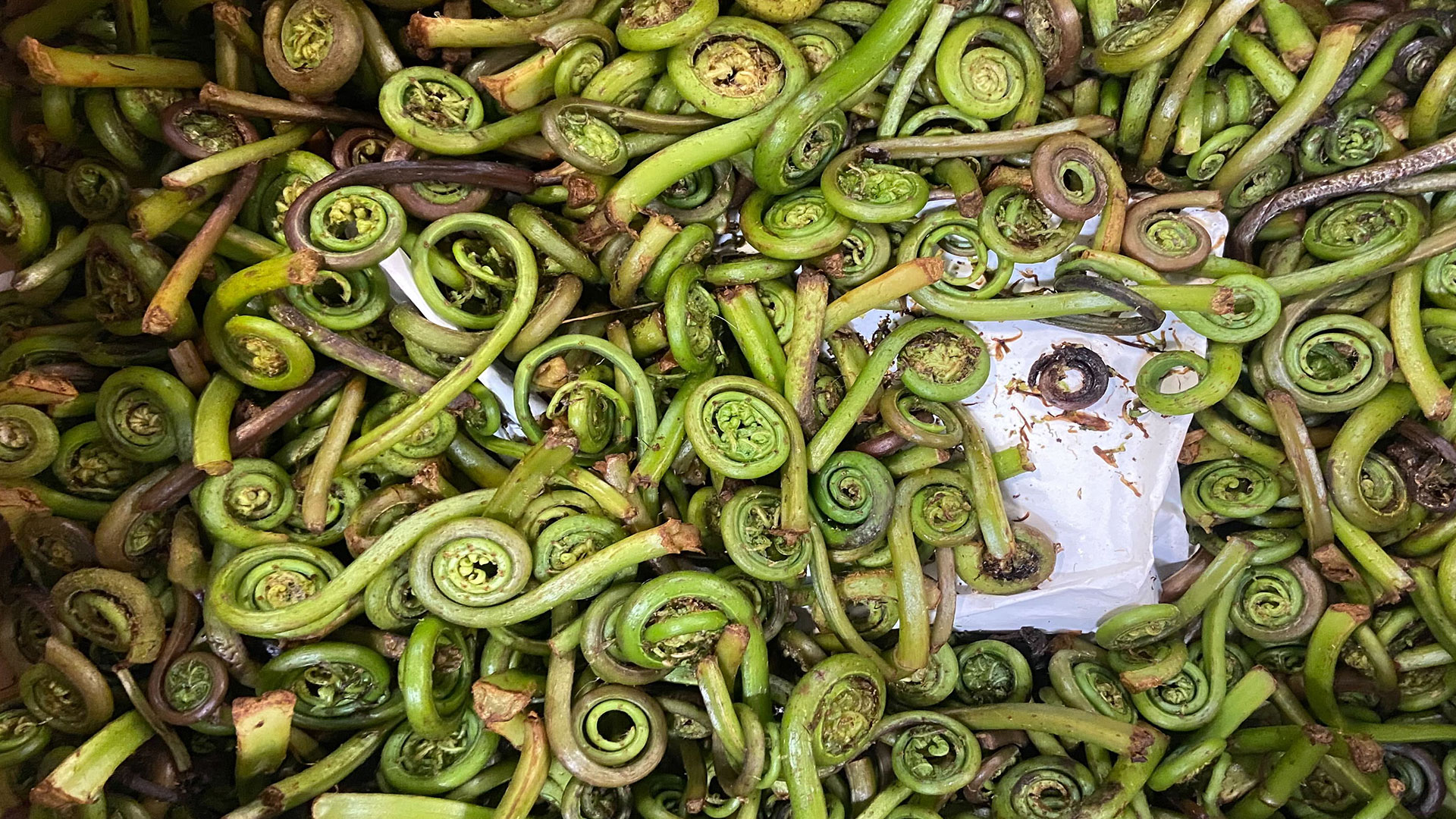 Spring Seasonal Produce With Short Growing Seasons
Some seasonal produce is only available for a brief window of time every year. Fiddlehead ferns, ramps, and garlic scapes are only available in the spring months, making them delicacies among chefs. It's important to use each of these seasonal items while they're fresh, but there are also ways to preserve them.
How Do You Prepare Fiddlehead Ferns, Ramps, and Garlic Scapes?
Fiddlehead ferns require specific preparation. Eating them raw is not recommended, because they can be mildly toxic. Fiddleheads are earthy and grassy in flavor, similar to asparagus. They can be steamed or boiled to be added to salads. Most often, however, fiddleheads are sautéed with butter and aromatics.
Ramps, also known as spring onions, are commonly found in the wild during the spring season. Use them raw in dishes where scallions and chives would work — these vegetables all have a similar onion-like quality.  Ramps can also be pan-fried or sautéed and added to numerous dishes.
Garlic scapes are unique in appearance and taste. While they look similar to scallions and chives, they have a distinct, though less pungent, garlic flavor. They can be eaten raw or cooked and used as a replacement for garlic in dips, pesto, hummus, or butter. They're also wonderful sautéed on egg dishes, fried rice, and even pizza.
How Do You Preserve Fiddlehead Ferns, Ramps, and Garlic Scapes?
There are a number of ways you can preserve and continue to use fiddlehead ferns, ramps, and garlic scapes even when they're no longer in season.
Fiddlehead ferns can be pickled or frozen. They can be stored in the freezer for up to a year, if they've been properly blanched and plunged into an ice bath before freezing. An alternative method is blanching the fiddlehead ferns and then pickling them, which will allow you to store and use them for several months.
With their similarities to onions and garlic, ramps and garlic scapes can easily be preserved for future use. You can use them to make infused olive oil, butter, or salt. Both can also be pickled. Ramps, in particular, can be dehydrated and crushed to make a green-colored adjacent product to onion powder.
Here's What's Fresh at Agri!
Fiddlehead ferns, ramps, and garlic scapes are available now, during the spring season, at Agri! We always keep seasonal, high-quality, and fresh produce in stock, but these three won't last long. Contact us to order these seasonal exclusives.