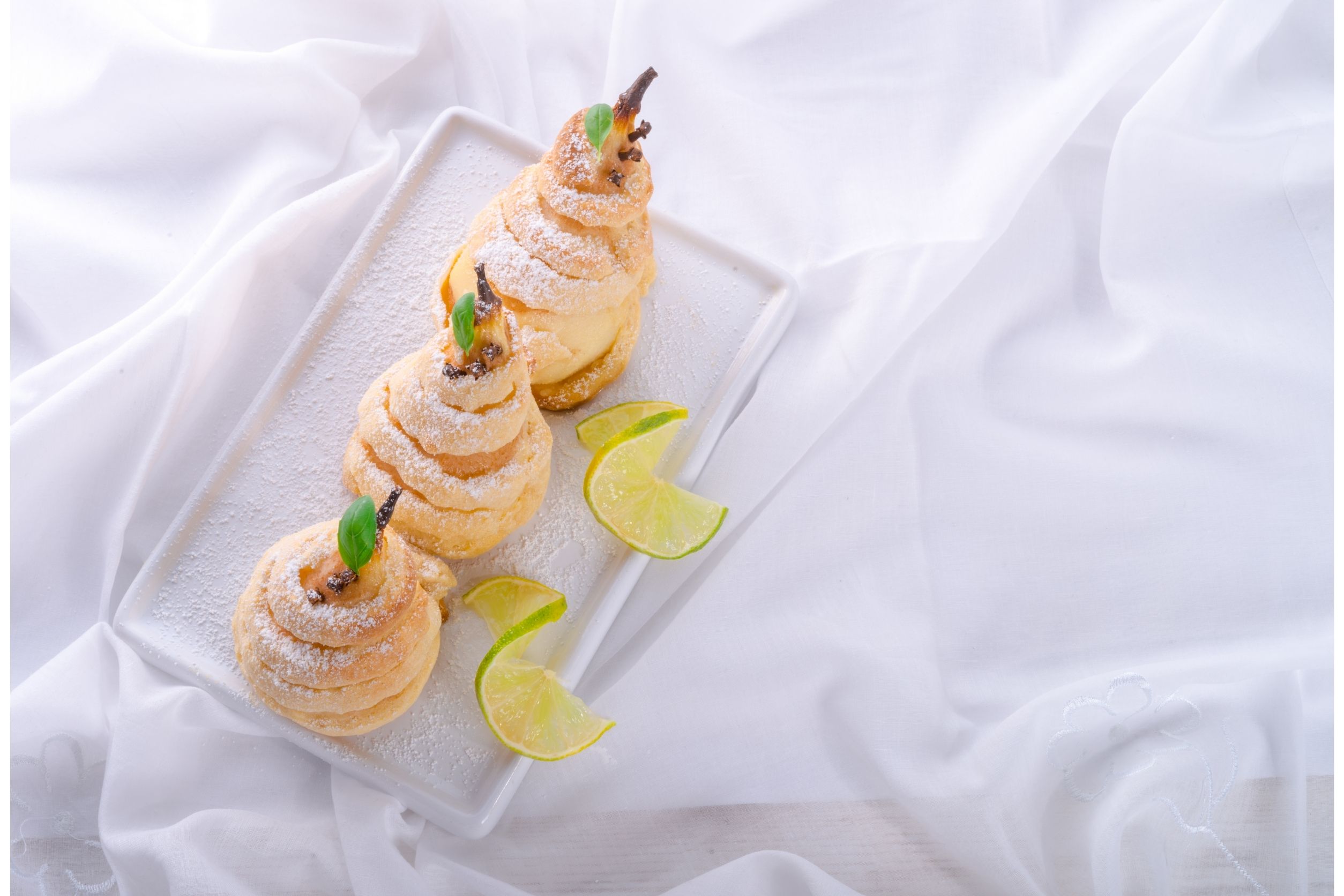 Our Favorite Produce Supply For Tasty Winter Pastry
The summer and spring months boast flavorful, sweet, and tart fruits that can make any dessert sing. However, that doesn't mean colder months are off the table. Every good pastry chef knows winter fruits flourish in these chillier conditions. Although, there are plenty of winter fruits that flourish in the colder months. They are so sweet and delicious, we just had to list some of our favorites. Here are the seasonal gems in our produce supply that we hope will inspire your seasonal dessert menu this winter.
Dates 
How can you go wrong with this classic winter fruit? A powerhouse of vitamins–to keep the winter flu away!–these wrinkly, quirky fruits are sweet, sticky, and perfect. Preserved dates are smaller and firmer, but we are partial to the fresh variety, especially when caramel and chocolate get involved. Whether you are rolling up a unique date and cinnamon paste for cinnamon buns, building up a pudding, or folding them into scones, the versatile date never lets anyone down. The colder the day, the sweeter the date. We love hearing how pastry chefs transform this playful ingredient into spectacular desserts.
Pears
The countdown to pear season finally pays off as the leaves fall and the winter frost settles in. This fruit spoils pastry chefs rotten with a varietal of flavors in the flesh and the skin. You could have a tangy, sweet profile on your hands or a spicier, sharper flavor — the world is your oyster. Or in this case, pear.
Despite their varietal flavors, we love how well pears play with others. No wonder our pastry chef neighbors love this seasonal treat! We have seen chefs cube pears and blend them with cinnamon and brown sugar for a holiday-style crumble. Vanilla, oats, orange zest, and ginger celebrate the diversity of this ingredient as well. We're also fans of the classic upside-down cake with spiced pears, not to mention the tried and true poach or crisp.
Whether you are roasting, baking, poaching, or garnishing with these lovely fruits, you can't go wrong. They're one of the most trusted, old-school winter ingredients, and we always have them on hand this time of year.
Tangerines
The humble, bright tangerine can sometimes get left behind in the holiday and winter season shuffle. The savvy pastry chef knows just what this sweeter orange varietal can do, though. Though they are little, they pack a fierce flavor that somehow soothes and brightens a dessert course. We have seen local pastry chefs utilize tangerines in tartlets, or fight cold with cold in the form of a granita garnish. Clove cake squares and spiced marmalade bring holiday spice and cheer to any menu. Our favorite was a tangerine flan we won't soon forget! Or garnish a dessert cheese platter with berries, supremed tangerines, and whipped cream or crème Anglaise.
What will you make this winter season? We want to know and we want to help! You deserve a great produce provider that will help you realize your unique winter dessert menu. For all your produce supply needs, AgriExotic is on your side.
Check us out for curbside pickup, prompt delivery, and no minimum ordering.