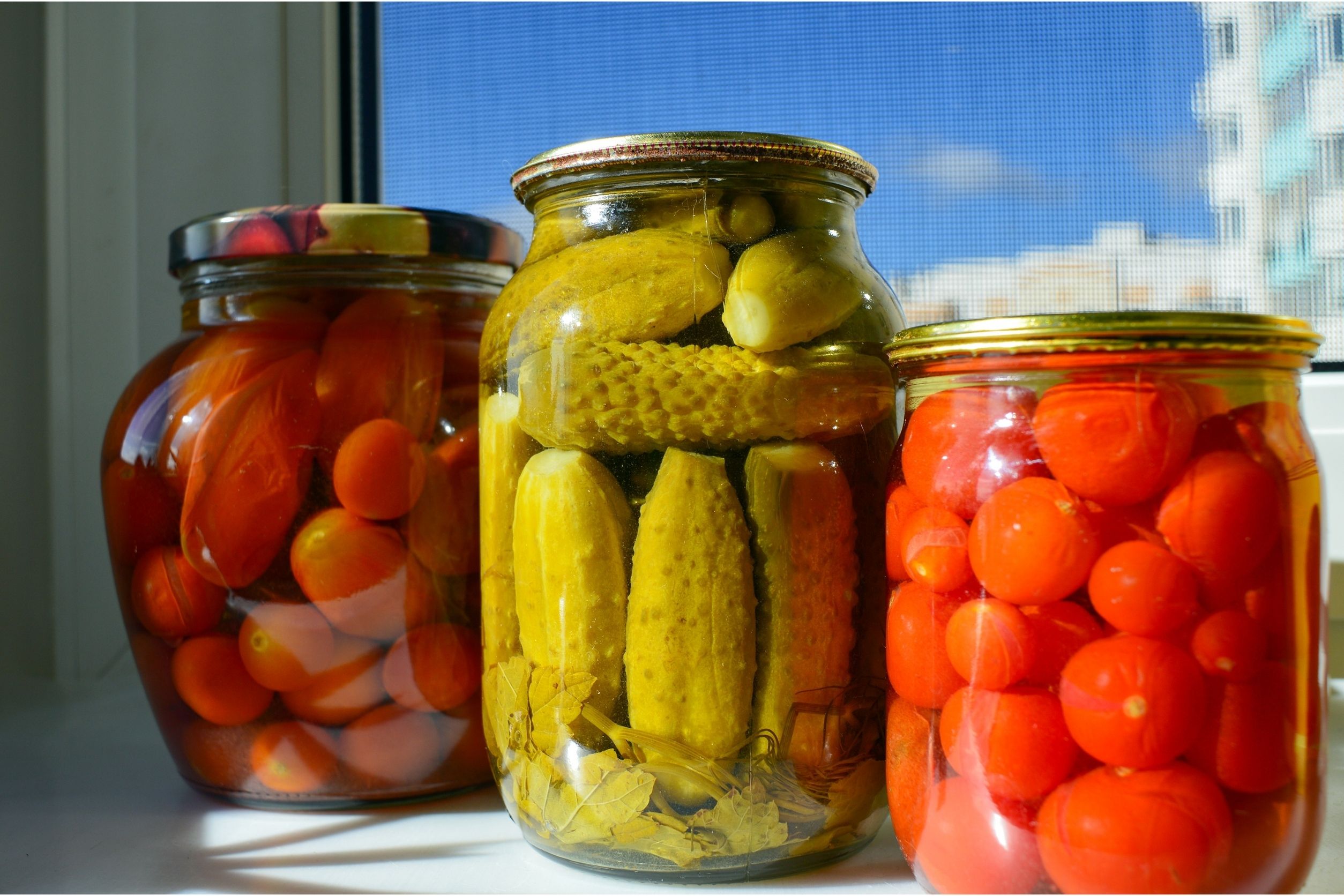 Wholesale Produce Deals: A Pickling Selection
Pickling has been used for centuries to preserve and extend ingredient life. The process is not just great for bringing a second life to fresh ingredients, it's great on tight kitchen budgets, too. Our wholesale produce has seen some classic and new takes on this age-old practice. Today, we're going to share some of our favorites over the years. Here are some mouth-watering perfect picklings our chef family has produced with goods from AgriExotic Co.!
Cabbage
Kimchi, kraut, and Brussel sprouts — cabbage is a true king of pickling. Kimchi's color, gochugaru, garlic, and fish sauce makes this South Korean staple a world-wide favorite. The tang, crunch, and funk is an industry favorite with fish, noodles, chicken, pork, steak — you already know the list goes on! Kraut's robust flavor and floral notes from juniper berries, fennel seeds, and dill elevates Reuben-fueled lunch breaks, and classic corn beef dinners. Cabbage is a go-to favorite of any chef who enjoys pickling for its versatility, quick turn around, and low maintenance prep. Their sour, sweet, earthy notes coupled packs a punch that leaves diners wanting more. What's not to love?
Jalapeños
When jalapeños meet vinegar, water, sugar, and salt, something magical happens. Their smoky, sweet flavor transforms into an unforgettable side or topper. We've seen chefs top sandwiches, burgers, and tacos with sliced, pickled jalapeños — it's an oldie, but a goodie. We have also seen them macerated into a jam that kicks brunch specials into a whole different gear. They are a cross-utilizing gem on any menu, and a great way for a chef to show off just how well they can balance spice and brine together. So, go on! Show up and show out with these flavor savers that are anything but a standard standby.
Blueberries
This is one we can't get enough of, and has us eyeing our fruit supply wondering just what we could get away with pickling. We had to feature our boy blue: the mighty blueberry. The sweetness in the fruit, and tannin through the skin makes this a go-to favorite for brining. We love it when chef pit these blues against red wine vinegar and sugar, not to mention sliced shallots and bay leaves. We have seen our blueberries brined and added to everything, even dessert. Pickled blueberries love anything off the grill, and creamy desserts that need a little extra "something something". We love how chefs have transformed this humble berry into something jaw-dropping. What fruit do you think you could pickle and put on the menu for an unforgettable guest experience?
Cucumbers
We had to do it. The reigning, defending champion: the cucumber. Talk about a glow-up! Cucumber's mild, refreshing taste evolving into a briny, sour burger booster is something of legend. We love to see it. Chefs who source fresh produce and build burgers from scratch are industry darlings in our book. We love when any chef takes the time to transform this modest veggie into something special. Like its other pickled produce cousins, pickled cucumbers carry a long shelf-life, intense flavor, and a crunch that prevails despite its vinegar conditions.
Why stop here? Almost anything can be pickled! Radishes, cauliflower, green beans — you name it. The fun part is all the experimentation a chef can get up to, all the flavors they can bring together to create something truly distinctive. The natural preservation of pickling also means you can have an advantage in those vegetables' and fruits' off-season. Imagine surprising a dinner guest in the winter with the bright taste of spring packed in a pickled blueberry. We certainly can!
Wholesale Produce Supply for Business or Customer
We invite you to look beyond the usual pickle, and let your imagination roam through our wholesale produce offerings of fruit and vegetables. Whichever produce you choose to try, effectively picking vegetables and fruits start with a reliable produce provider. Order now from AgriExotic for a customer experience that won't leave you in a pickle!