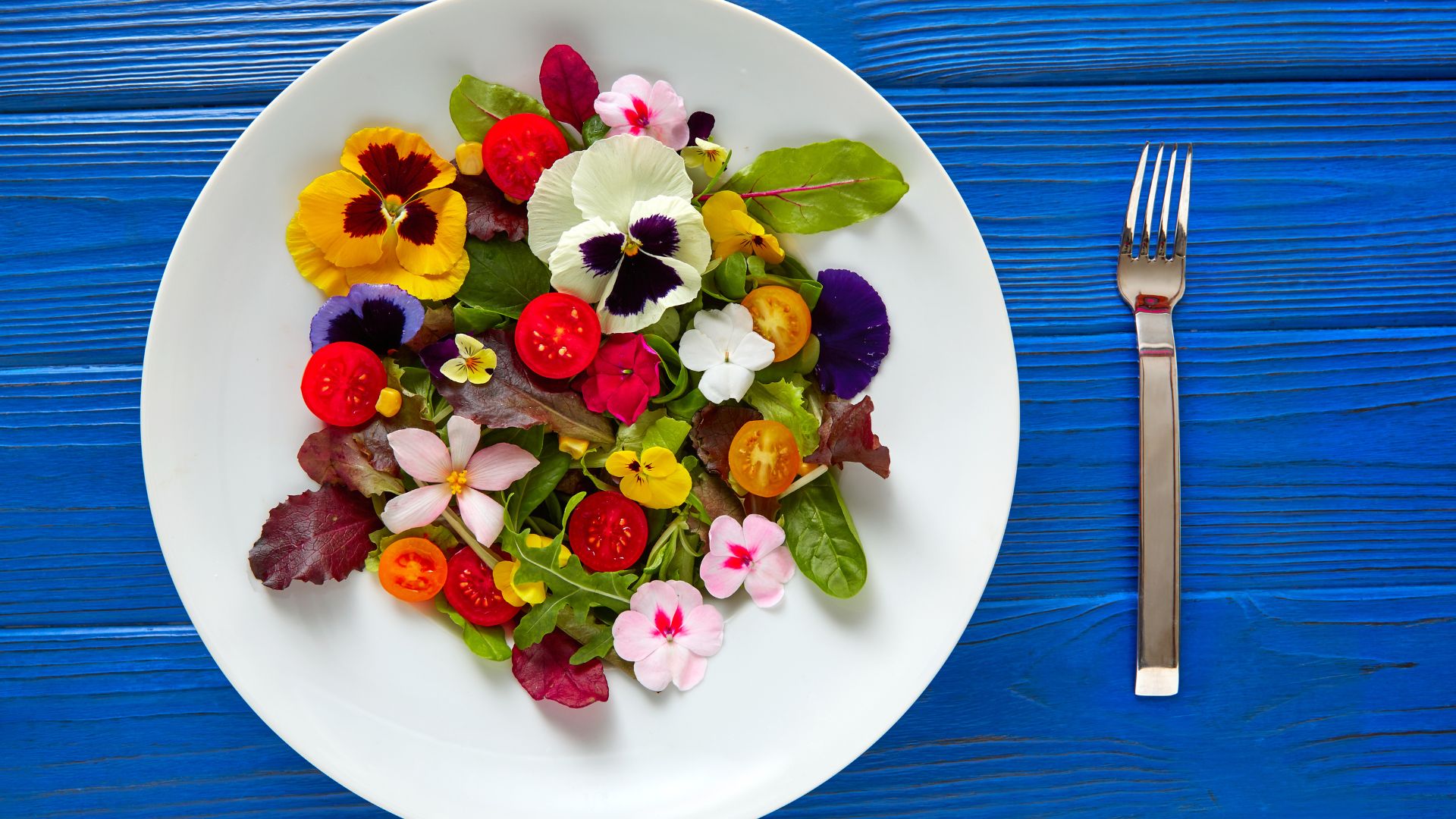 Edible Pansies and 7 Other Edible Flowers for Chefs to Use
Flowers are not just for viewing; they can also be for eating! Edible pansies are becoming increasingly popular in gourmet baking and cooking. After losing their popularity and status, edible flowers are on the rise. 
Garnishing with edible flowers is an excellent way to take already-stellar cuisines to the next level. They're an eye-catching, striking, vivid, and stunning addition to your cooking or baking repertoire. Utilize their bright hues in salads, cakes, cookies, candies, cocktails, or even marinades.  
What are Edible Pansies?
Edible pansies are the most commonly-used edible flower on the market. They're beautiful and easy to use; the entire flower is edible, not just some of it. The stamen, pistil, and sepals are safe to consume, making it an economical and intelligent choice for cooking or baking.
Pansies maintain a delicate, subtly sweet, and wintergreen-like taste. They are similar in flavor and texture to baby lettuce; some even report a bubblegum flavor emanating from the gorgeous flower. Its versatility and beauty make it the widely-used flower it is today.  
Edible Flowers For Decor & Flavor Alike
Although not every flower is made for eating, dozens are! Pansies may be the reigning champion of the edible flower family, but there are even more to consider. To expand your flower knowledge even further, explore some of these bountiful beauties in your next creation:
1. Apple Blossom
Apple blossoms are delightfully floral, sweet, and smooth. They possess a honeysuckle-like taste and are extremely fragrant, too. These beautiful flowers are wonderful for the incoming fall months. Brew them in teas, infuse them in jam, or create a cinnamon apple blossom cocktail.
2. Carrot Cress
These delicate fronds that lie on the heads of carrots are dense in nutrition and flavor alike. A perfect addition to salads, these greens possess an intense carrot flavor and pack big taste. Carrot cress is slightly sweet, warm, and savory. The flowers contain large amounts of vitamin K, vitamin C, folate, and manganese as well. 
3. Dulce Buttons
Also called dushi buttons, this teeny-tiny flower variety may be small in stature but it's mighty in flavor. They're known for their extremely sweet flavor, with undertones of mint, licorice, and thyme. Perfect in cocktails, mocktails, warmed drinks, or for a syrup infusion. 
4. Dulce Leaves
Yes, the dulce flower also has edible leaves! Dulce leaves are actually in the seaweed family and are extremely rich in potassium. Known for their healing properties, Dulce leaves work best in tea or soup infusions. 
5. Nasturtiums
One of the most common edible flowers, nasturtiums offer a bright and peppery dance to any dish they add. Nasturtium blossoms look and feel similar to pansies but differ in their flavor profile. Their flowers may be used to encase whipped ricotta, offering a twist on the traditional squash blossom. Lemony and spicy nasturtiums are an excellent choice for any dish.
6. Nasturtium Leaves
The leaves of a nasturtium flower are round, circular, and nearly resemble the shape and size of lilypads. The leaves of nasturtium are quite peppery in flavor and are reminiscent of mustard or watercress. As a matter of fact, their medicinal properties make them perfect atop salads or in soups.  
7. Incan Begonias
Finally, these vibrant, red, star-shaped flowers are a stunning display of visual and edible delight. Obviously, a cake decorator's best friend, Incan Begonias are an extremely versatile edible flower. Altogether beautiful in rich desserts like cheesecake, or even perfect in umami-centered dishes like fish or chicken. There's no doubt you'll impress the crowd with an Incan Begonia starring in the show!
Edible Flowers for Cakes, Cocktails & More at Agri
Above all else, Agri supplies gourmet chefs and grocers with fresh, seasonal produce. We're here to make your job easier. Agri is committed to those we serve, so we stay open six days a week, 24 hours a day. We're here for you when you need it most. To keep up-to-date on our monthly, in-season offerings, check out our Monthly Specials.