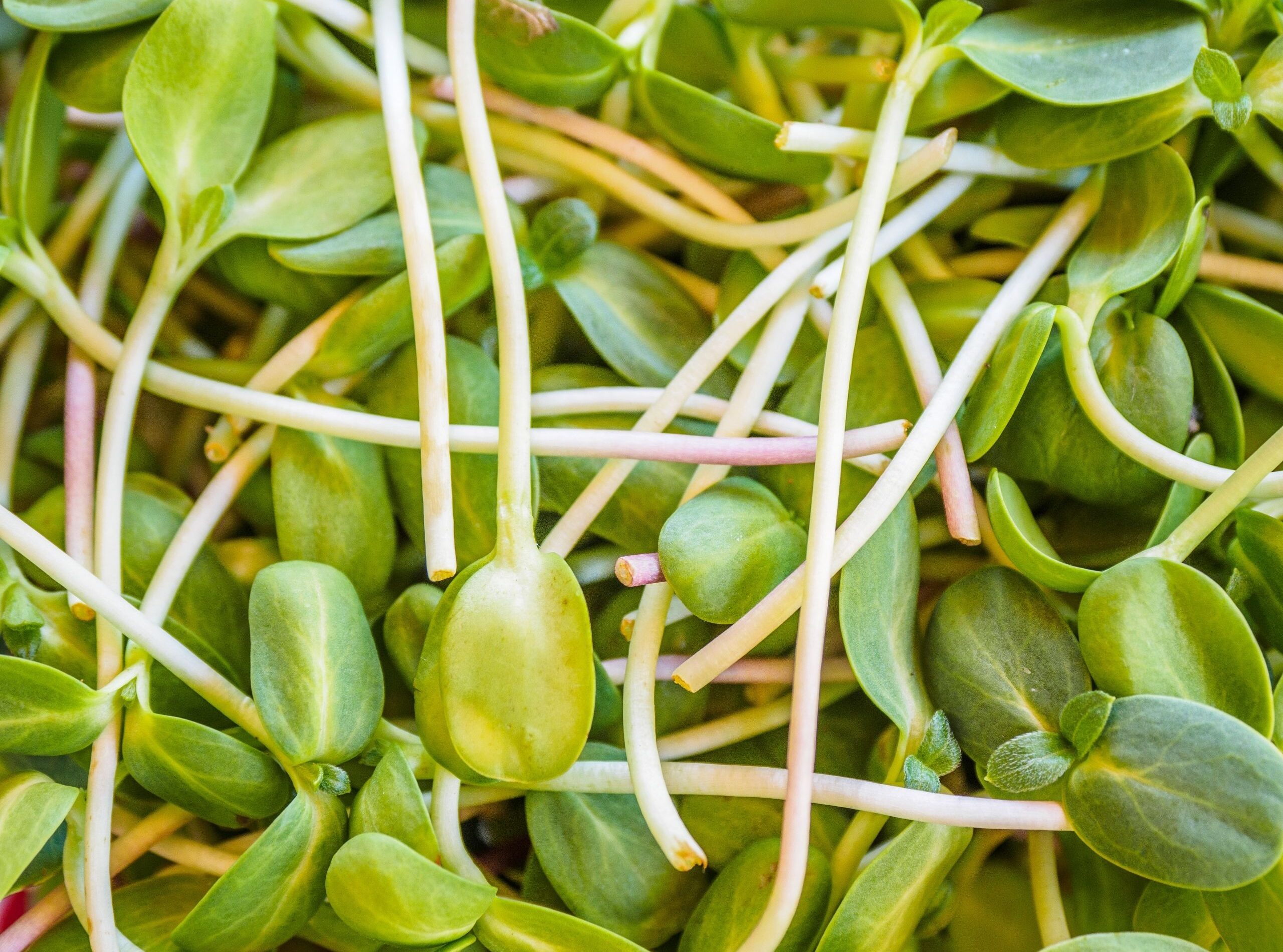 Microgreens that Pack-A-Punch
Microgreens are more than what they seem. On the surface, they may look like innocent, tiny sprouts that bring more decoration to a kitchen than anything. However, chefs know they pack one heck of a punch, and can gussy up dishes with minimal prep. Their intense flavor and aroma has been seducing diners for years. Their upkeep can also be relaxing, especially for green-thumbed chefs, but they're easy enough to maintain by beginners, too. The rapid turn around time for growing microgreens and their variety of flavors makes them attractive to chefs looking for a cheeky, sophisticated flourish to signature dishes. We have several microgreens to offer the adventurous chef with a taste for excellence.
Snow Pea Sprouts
These firm, but tender new shoots derive from the–you guessed it!–snow pea plant. Snow peas have long been popular for their crunch, texture, and cool, smooth flavor. That same sweet, buttery taste is inherent in our snow pea sprouts, where these microgreens deliver macro-taste as stir-fry garnishes, noodle bowl toppings, or ginger salad pairings.
Micro Pea Sprouts
For a dose of spring during winter months, we see chefs turning to micro pea sprouts, or shoots. Guests get a thrill out of these frilly little leaves and unmistakable, unequivocal sweet-pea taste they possess. These have featured with radishes and sweet ginger dressing, or split pea soups as garnishes with crema and feta. If you are new to microgreens, this is a fun one to harvest with Agri.
Daikon Cress (a.k.a Radish Sprouts)
We get a kick out of our daikon cress, and so do our local chefs, caterers, and restauranteurs. Take the bite and zeal of daikon and compound that radish flavor from leaf to root for an unforgettable wallop. Daikon may be more subtle compared to other radish sprouts, but leaves a lasting impression on guests. That fresh flavor, spice and pepper note, and small, but mighty crunch are unmatched. Ask us about ordering other varietals of radish sprouts to play with various flavors!
Alfalfa Sprouts
Considerably the tenderest of the lot, alfalfa sprouts possess a delicate profile, and impart a grassy note to their dishes. They may not make frequent appearances on local dinner entrees, but their freshness and texture lend themselves to creative garnishing. They can bring a sense of spring and summer to sensitive sides, fresh salads, and lunch sandwich specials. Our harvest is always on hand when you want to bring a lighter touch to your prep.
Bean Sprout
The one and only! This mighty mung bean is always ready to jump into prep in your kitchen. Bean sprouts are more toothsome and juicy than our other listed sprouts, so we see them standing up to stir-frying and other intense cooking on the regular. We love them for their texture, look, and refreshing flavor that always has a knack for picking up other ingredients along the way.
Budding Interest
More and more guests are taking an interest in restaurants ready to dabble with microgreens. They have discovered their intense flavors are only matched by their dense nutrition content. As more guests grow more health conscious, microgreens rise further in guest preferences. They may have roots in fine-dining, but have become more accessible and available across the culinary spectrum. It appears to be a trend that has not only evolved and picked up steam, but is here to stay as health, sustainability, and flavor continue to cohabitate.
If you want to bring the farm straight to the table and add microgreens to your kitchen, visit Agri to place an order today.