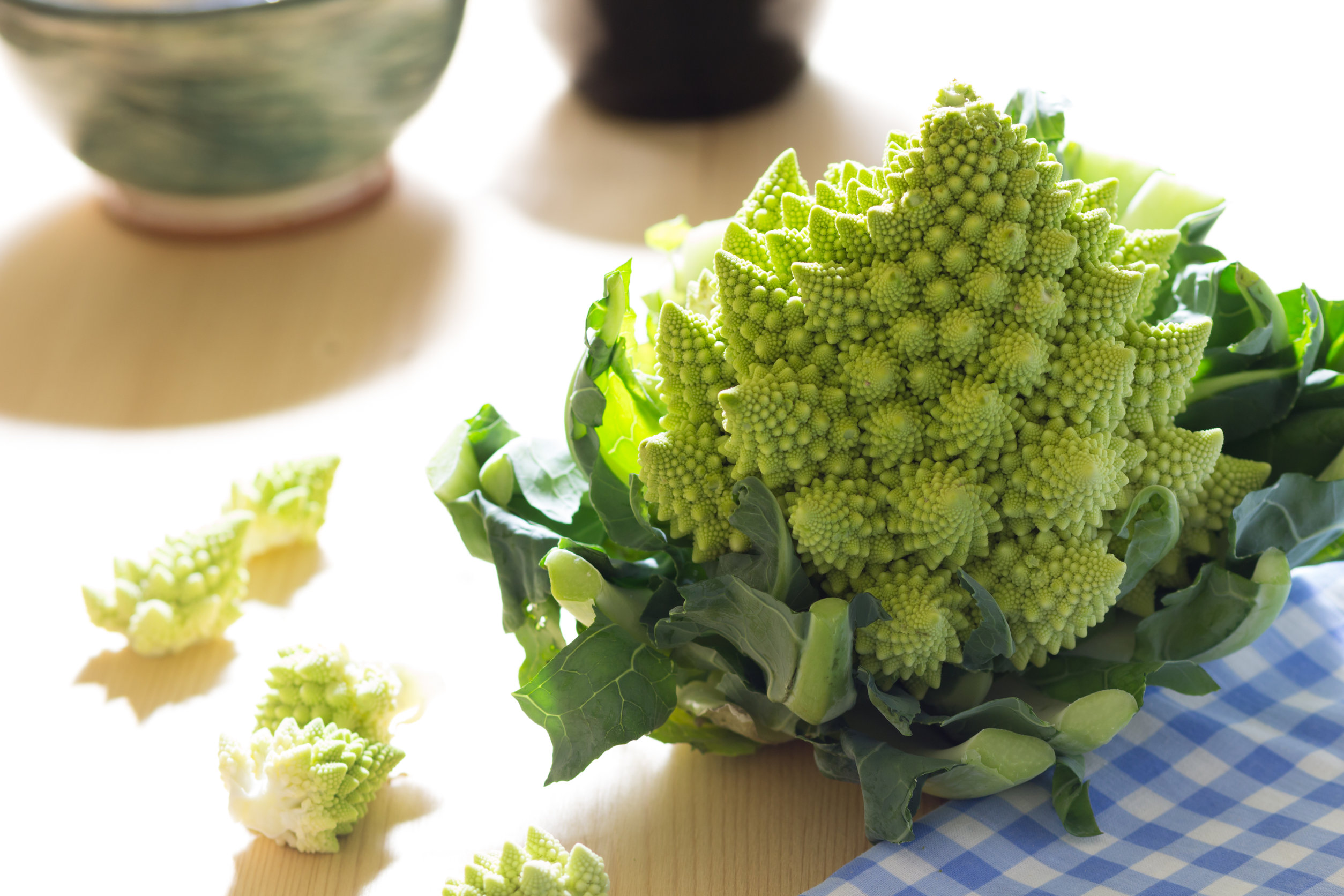 The Story of Romanesco Cauliflower: The Edible Flower
Romanesco cauliflower is known by several names including Romanesco broccoli, fractal broccoli, or simply Romanesco. Chefs know their unique geometric presentation is not just for show. The Romanesco goes above and beyond its gorgeous gimmick. Romanesco's nutty flavor makes it more subtle and delicate than its broccoli and cauliflower counterparts. It is an excellent source of vitamin C, vitamin K, dietary fiber, and carotenoids for chefs leaning into healthier menu ideas. 
Though still just the flower bud, the look, taste, and history of this autumn vegetable are anything but underdeveloped. This bud is always in full bloom when paired with other ingredients, raw, cooked, fried, or as a garnish. It is one of the more mysterious, nutrient-dense, and fabulous produce pieces we have to offer at Agri. 
What Makes the Romanesco Cauliflower so Special
The history of this veggie alone renders it a pedigree. It's been around for a while – Romanescos date as far back as Rome and 15th century Europe. They sport a naturally occurring fractal pattern, lending them their trademark nuance and attractiveness. Each bunch of Romanesco is made up of smaller buds that build over and over each other, which renders the Romanesco its recognizable peaks. This phenomenon is also why this flower never blooms! Disturbances in their genetics cause the plant to keep repeating its budded pattern without fully blooming, thus creating its shape. 
But that is not the only thing that makes a Romanesco special. 
Romanesco in Recipes and on the Line
At the end of the day, we are looking for the taste, texture, and executions that make Romanescos as unique as they are. Romanescos may look dense and complex, but their breakdown is about as low maintenance as their broccoli and cauliflower cousins. The stems can be fibrous, but can still be enjoyed on any menu, especially when they are medallions and tempura fried for an excellent starter. The bulbs can be roasted or steamed on their own, and served like an artichoke – peel, dip, and eat! 
We have seen them used predominantly as sides, and we get it! Their shape, color, and alternate peaks look lovely on a plate with some lemon chicken, reverse-seared steaks, or slow-cooked tenderloin. Served raw, their crumble makes for a fun texture to any salad. However, these flowers love a good roasting. They can perform a pitch-perfect duet with the right cut of meat or serve as a divergent ingredient to a classical roasted medley. Give them a quick pickling to really stand out from the crowd, making them a perfect crunch in place of a dill pickle, radish, or carrot. Honestly? Romanesco recipes are endless!
Romanesco Cauliflower: All in the Timing
We wanted to throw these on your radar early. Traditionally, Romanesco is planted in the summer and matures in the cooler months. However, Romanesco often has a second harvest, making it available as early as May. We work with farmers to ensure you are discovering Romanesco cauliflowers at their peak! They are a fun and surprising element to introduce to your menu and to your guests. They are astounding on a plate of any kind, even if we haven't quite cracked the code on a Romanesco dessert option. The hearty, scrumptious, and never duplicated Romanesco has a way of standing out that just can't be beat. 
A mathematical marvel as well as a delicious and unique type of flower bud, the Romanesco is a great playmate for new menus, seasonal specials, chefs looking to play with something new, or chefs planning for cooler months. 
Regardless of how you add this rambunctious floral element to your cooking, you can find all your Romanesco recipe needs when you choose produce from AgriExotic. That's because we pride ourselves on providing a reliable selection of wholesale fruits and vegetables that change with the season. We'll keep your pantries stocked and up to date. To browse and shop our extensive collection of delicious produce, go to https://agriexotic.com/order/.