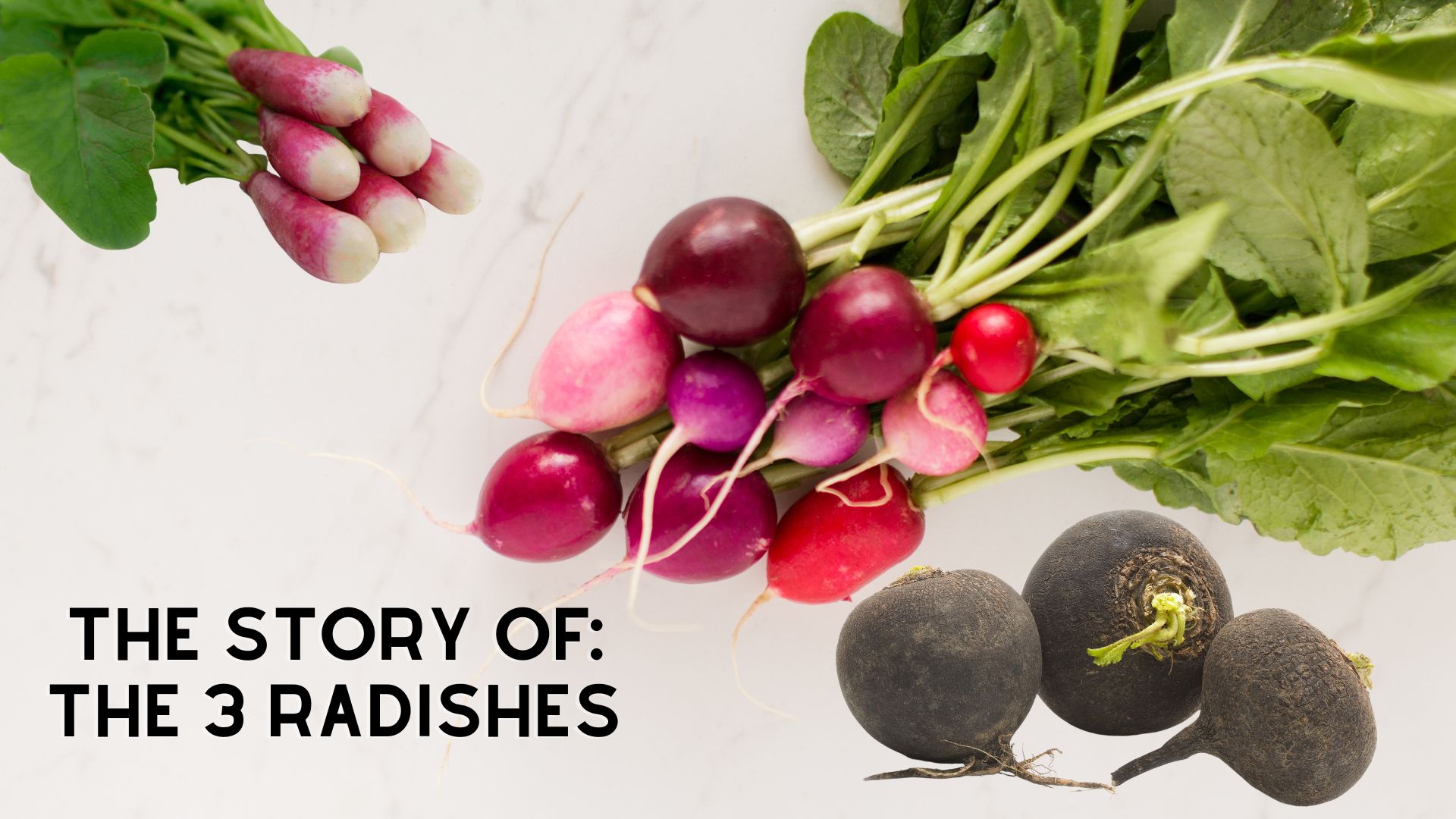 The Story of the 3 Radishes: French Breakfast Radish, Easter Egg Radish, and Black Radish
Once upon a time, in the world of Agri Exotic, there were three radishes. But although they were all radishes, each one was different from the rest. One was good for pickling, the other for roasting, and the third was perfect for salads and snacks. And even though these three brothers were different, they had one thing in common: they were all delicious! So, scoot closer for storytime as we tell the story of the three radishes!
The Black Radish 
The first radish was the spiciest of the three. He has charcoal-colored, coarse skin, but beneath a creamy flesh with a pungent kick. This radish did not fall far from the mustard side of his family. While the butter-like inside looks inviting and mild, the black radish is anything but tame. He can be roasted or sliced thin for chips with a zing, but he prefers avoiding heat. Sometimes the black radish will dabble in salads with flavors that can match his personality, but his true love is pickling! The acidity of the pickling process takes the edge off this rebellious radish. This makes him ideal for a quick- or long-term pickling processes. The acidity balances his spicy tendencies and distinct aroma, and the crunch stays intact. 
The French Breakfast Radish
The second brother was the tallest of the three. Unlike his plumper brothers, he stood taller, blushing pink, red, and white. A true people pleaser, the French Breakfast radish is at home on a roasting pan or sliced thin with salt, butter, and crusty bread. However, he truly shines when he is roasted, sauteed, or fried. He is the crunchiest, most robust of the three, which means he not only can take the heat but enjoys the process! The heat, whether caramelizing in the oven or crisping up in oil, brings out the best of this big brother. His naturally mild and sweet flavors mature to another level, letting him show off his pepper, mustardy sides along with his sweetness while cozying up to entrees. 
The Easter Egg Radish
The third brother was the most steadfast of the three, the working horse, and dependable as ever. He can be seen making the rounds as a snack, chopped up on tacos, or roasted for a golden brown finish. The Easter Egg enjoys being presented in several colors, ranging from pink to crimson to purple. No wonder he has been compared to his festive springtime namesake! He has a satisfying crunch, and pepper zip, and can bring a playful note to any salad or stir-fry he encounters. At the end of the day, he just likes to chill with a little salt and other veggies, the fresher and cooler the better. 
These are just a few radishes available at Agri. They traveled the lands to arrive here and join you in your kitchen! Every radish is unique in flavor, texture, and preparation. If there is a radish you enjoy, but did not see in this story – or our inventory – contact us about placing a special order! There are over 100 species of radishes, and we are up for the challenge of finding the perfect one for you. No matter which radish you choose, it is guaranteed you, your guests, and your dishes will live happily ever after.
Agri black, French breakfast, and Easter Egg radishes – and more! – are available now at AgriExotic! We always keep a stock of what's available for chefs at our facilities and are available day or night to answer questions, fulfill orders, schedule special orders for specialty ingredients, provide fresh-cut produce service, or complete second runs. Contact us today to see what has joined our inventory!